Ordering of Cultures
1. Search Microorganisms
Please make sure NBRC number and taxon name of the strain(s) from our online catalogue. If you wish order DNA resources, please browse individual web page from the right column.
2. Permission for some strains regulated
Please make sure you have to obtain appropriate permit for some strains which are under regulation(s) for distribution. All informations such as regulation, biosafety level, cultivating condition of the strain are described at online catalogue or here.
If your government agency requires a document for importing, please send us the form(s) together with the Ordering Form.
Restricted strains
Online catalogue field
Notice
Description
Living Modified Organisms
Restriction
Pledge for the Lawful Use of Living Modified Organisms【PDF:97KB】
Living Modified Organism (LMO)
Specify the country of origin requirements
Restriction
Material Transfer Agreement (MTA)*1
Conclusion of MTA is required
Restriction on use by the depositor
Restriction
COVENANT*1
Conclusion of MTA is required
Deposit with Restriction
Utilization of the strains originated from Brazil
Restriction
See here
Regulation by Brazilian law
Need in-licensing for commercial use
Restriction
If you intend to use the microorganisms for commercial use, you must contact its licensors prior to any commercial use of the vectors and/or hosts for in-licensing.
Need in-licensing for commercial use
*1 Order received, send by email from the NBRC.
3. Ordering Form
Please fill both strain name(s) and its (their) NBRC number(s) (= IFO number(s)) in your order, and sign or place a seal in the signature column. NBRC identification numbers under 100,000 are identical to IFO identification numbers (e.g. NBRC 12345 = IFO 12345).
4. Inquiry to NBRC
Please complete the order form and send it to the following address by postal mail, facsimile or e-mail. Order by telephone is currently not accepted.
Biological Resource Center (NBRC),
National Institute of Technology and Evaluation (NITE)
2-5-8 Kazusakamatari, Kisarazu-shi, Chiba 292-0818 JAPAN
FAX: +81-438-52-2329
E-mail: nbrc-order@nite.go.jp
5. Payment
For price list, please click here.
We accept payment by bank remittance or credit card (VISA or Master). We do not accept payment by cash or check.
6. Shipping
We can ship the microorganism(s) after verifying your payment.
We dispatch the microorganism(s) as L-dried (glass ampoule), Frozen-thawed culture disc (plastic tube) and/or living culture (slant, vial bottle, and so on) by Express Mail Service (EMS).
7. Reactivating culture
On receipt of the culture(s), please reactivate as soon as possible following the methods included in the package. You can get information to revive the cultures, from "instruction for cultures" below. Please don't hesitate to send us any further questions.
Notice
Depending on the preservation conditions, judicial regulations, etc., strains will be either removed from the distribution list or modified for their distribution conditions without prior notice.
As stated in the "Agreement of Biological Resource Transfer and Treatment" mentioned above, the strains you have received from us should not be transferred to a third party.
We cannot ship "strategic material strains", classified as "the cargo of special note" in the Article 48, 1 of the Foreign Exchange and Foreign Trade Law, to overseas countries. When ordering these microbial strains, please be sure to attach a signed or sealed affidavit of use to your order form and send us both by mail. Your request by telephone or facsimile are not acceptable . ...more
Distribution of Living Modified Organism (LMO) is controlled under the "Cartagena protocol on biosafety to the convention on biological diversity". ...more
Your information and remarks concerning the strains you have received will help us to improve our preservation and shipping methods. Also, we appreciate receiving reprints of your publications as well as any information concerning your research using the NBRC (IFO) strains we supplied.
Instructions for Reactivating Cultures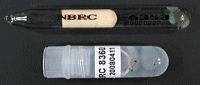 Above;

L-dried culture (glass ampoule)

Below;

Frozen-thawed culture (plastic tube)
Instructions for cultures
File [PDF:59KB]
Download the latest version of Adobe Reader (free)

to open and view PDF documents
Contact us
Culture Collection Division, Biological Resource Center, National Institute of Technology and Evaluation

Phone number:+81-438-20-5763
Fax number:+81-438-52-2329
Address:2-5-8 Kazusakamatari, Kisarazu-shi, Chiba, 292-0818 JAPAN MAP
Contact Form