Tetragenococcus halophilus

NBRC 12172
Tetragenococcus halophilus NBRC 12172, a halotolerant lactic acid bacterium, was isolated more than 40 years ago from soy sauce brewing mashes by K. Sakaguchi (Noda Institute for Scientific Research) and has been maintained by Institute for Fermentation, Osaka (IFO) and NBRC. A subsequent study has shown that T. halophilus constitutes the overwhelming majority of the lactic acid bacterial population in the traditional brewing process of soy sauce. It is also used to contribute to the pH decrease of broth and the flavor production in modern soy sauce brewing.

Lactic acid bacteria whose genomes were analyzed so far are mainly derived from animal sources. Although various functionalities such as the improvement of allergic symptoms of plant-derived lactic acid bacteria like this strain are expected for being suited for physical conditions and eating habits of Japanese, their genomes have rarely been analyzed.

The genome analysis of T. halophilus NBRC 12172 revealed a single circular chromosome composed of 2,562,720 bp. Presence of genes involved in the maintenance of osmotic balance well explains the high-salt resistance of T. halophilus NBRC 12172. The genome sequence of T. halophilus NBRC 12172 may facilitate the efficient and rational breeding of this bacterium and contribute to an improved quality of the product through fermentation control using the methods such as DNA microarray. In addition, this strain may serve as a safe genetic resource producing a large number of enzymes for industrial applications with excellent salt resistance and stability.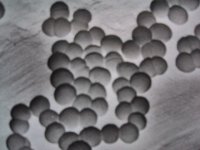 photo by Noda Institute for Scientific Research
Tetragenococcus halophilus NBRC 12172

| | |
| --- | --- |
| Genomic size: | 2,562,720 bp |
| The number of ORFs: | 2,555 |
| GC content: | 36.04% |
| Genome Database: | DOGAN |
| NBRC No. : | 12172 |
At the Biological Resource Center of the National Institute of Technology and Evaluation (NITE Biological Resource Center, an Incorporated Administrative Agency), we have been distributing the microbial genomic DNA
Contact us
Industrial Innovation Division, Biological Resource Center, National Institute of Technology and Evaluation


Address:2-49-10 Nishihara, Shibuya-ku, Tokyo, 151-0066 JAPAN MAP
Contact Form