Corynebacterium efficiens

YS-314T(= NBRC 100395T)
C. efficiens YS-314T (or AJ 12310, JCM 11189, DSM 44549) is very similar to the well known C. glutamicum that has been serving for the industrial production of L-amino acids, in particular L-glutamic acid (a million tons each year), for a long time. C. efficiens YS-314T can grow at temperatures above 40 °C in contrast to C. glutamicum that grows at 30 °C. This feature is quite beneficial for its industrial use, because fermenters to be used for its cultivation need to be cooled down only to a lesser extent for heat removal. Hence, it is said to be a Corynebacterium of the next generation.
The genomic sequence information of this bacterium would be useful for the understanding of thermostability of various enzymes. It has been reported that, despite the similarity between the structures of C. glutamicum and C. efficiens enzymes, they contain distinct amino acid differences such as lysine to arginine, serine to alanine, and serine to threonine substitutions, respectively, all of which contribute to the higher G+C content of the C. efficiens genome and at the same time might be responsible for higher heat-stability of C. efficiens enzymes.
Corynebacterium efficiens strain YS-314T (synonymous to AJ 12310T, JCM 11189T and DSM 44549T) is very similar to C. glutamicum, another Corynebacterial strains whose genomes have been analyzed.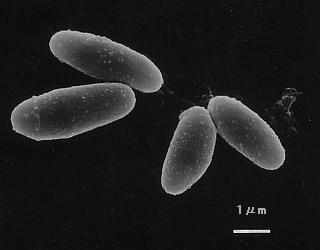 Courtesy of
Ajinomoto Co., Inc.
Reference:
Fudou, R., Jojima, Y., Seto, A., Yamada, K., Kimura, E., Nakamatsu, T., Hiraishi, A., and Yamanaka, S. (2002). Corynebacterium efficiens sp. nov., a glutamic-acid-producing species from soil and vegetables. Int. J. Syst. Evol. Microbiol. 52, 1127-1131.
*:

NBRC is the acronym for "the NITE Biological Resource Center".
The URL of NBRC is http://www.nbrc.nite.go.jp/e/index.html.
At the Biological Resource Center of the National Institute of Technology and Evaluation (NITE Biological Resource Center, an Incorporated Administrative Agency), we have been distributing the microbial genomic DNA.
Contact us
Industrial Innovation Division, Biological Resource Center, National Institute of Technology and Evaluation


Address:2-49-10 Nishihara, Shibuya-ku, Tokyo, 151-0066 JAPAN MAP
Contact Form