Promotion of Standardization
~ Protecting against reoccurrence of consumer products incidents and dealing preventive measures ~
In order to realize safe and secure society, NITE technically supports appropriate operations of regulations which are engaged in safety of consumer products, also revision of regulations in the point of protecting asgainst reoccurrence and preventive measure of consumer products incidents. NITE operates the business described below.
Standardization for the Elderly and Infants
NITE is implementing mainly development and presentation of standards and regulations which intended to protect reoccurrence and to prevent injuries in use of consumer products based on the consequence of analysis and investigation of accidents information which would occur mostly among the elderly and infants.
Actually NITE has extracted the accidents information related to the elderly and infants from the collection of governmental agencies including NITE and then evaluated the risk level appropriately and specify products which would have the high risk in themselves through the process of analyzing and evaluating the accidents information related to the elderly and infants.
And finally NITE has developed and presented the standards and regulations require the testing and evaluation method which are inevitable for safety design and manufacturing regarding to users' physical characteristics and behavioral trait.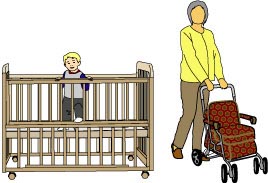 And recently NITE has developed "Child Safety Standards System" which is based on ISO/IEC Guide 50 'Safety Aspects-Guidelines for Child Safety' as top priority concept (Type A standards: basic concept), and the testing methods toward intrinsic hazard of infant products as Type B standards (Group Safety Stndards) from a viewpoint of protecting reoccurrence of accidents and preventing injuries.
Most of all NITE is concentrating on developing the testing methods for Type B standards in cooperation with relating agencies.

Fig. Child Safety Standards System
Overhauling Technical Regulations(Electrical Appliance and Material Safety Law)
Various electrical products such as televisions, refrigerators and vacuum sweepers for home use are not allowed to manufacture, import or distribute without adjustment to Electrical Appliance and Material Safety Law and several more procedures. Therefore NITE plays an active role in overhauling Electrical Appliance and Material Safety Law and other technical regulations based on the analysis of causes of accident information.

Periodic research inspection meeting for technical regulations related to safety of electrical appliance (J)
International Standardization
NITE is playing a role as the deliberative body for ISO/TC173(Assistive Products for Persons with Disability), WG8(Tactile Walking Surface Indicator), PC240(Product Recall)and PC243(Consumer Product Safety).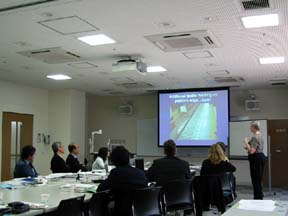 Providing Data Related to Product Safety
NITE is providing the data for promoting safe and accessible products and for developing product safety regulations contributed to the elderly and disabled persons.
Common Standard for Assistive Products
Assistive products are getting more significant day by day for the reason that Japan has faced the age of aged society. In the circumstances like this, while the distribution of assistive products is growing large, accidents caused by assistive products are getting highly visible. In response, NITE has developed'Common Testing Methods for Assistive Products'corresponding to various assistive products.
Publication of Human Characteristics Database
NITE has collected almost 1000 of basic human characteristics measurements and physical data from age of 20s to 80s, including muscular strength and joint flexibility, and systematically compiled these data into a human characteristics database, located on-line at NITE's website.
Human Characteristics Information (Sapience)
This link intends to give publicity the database and reports providing the technical information related to ergonomic design (e.g., real measurements, guideline) and to utilize for manufacturing products.
Fracture Database of Plastic
We disclose the appearance of cross section (fracture cross section)and the intensity on destruction of macromolecule material including plastic as a database.
Database of Allergic Contact Dermatitis
Considering that techniques for cause investigation concerning the occurrence of skin disorder accidents by processing agent in textile goods have not been established, we establish qualitative and quantitative method for processing agent and disclose data base of causative agents for skin disorder.
Database of Allergic Contact Dermatitis (J)
Combustion and Ignition Database
We disclose technique for cause investigation of accident and data for ignition and combustion accidents in the field of home electric products, such as much power supply cords or elongation codes, which occur most frequently in product accidents.
Combustion and Ignition Database (J)
Copyrights for all information contained within the documents and data on the Web site are reserved under copyright law and belong to the National Institute of Technology and Evaluation.
No portion of the information on the Web site may be disclosed to third persons without the prior written permission of this institute.
The National Institute of Technology and Evaluation is not responsible for the accuracy, usability, perfectibility, or damages arising from the use of the information on this Web site.
If you would like to link to this Web site or if you wish to use the data in print media, CD-ROM, VTR, or broadcasting, please E-mail standard@nite.go.jp in advance.
List of pages related to Promotion of Standardization
Contact us
Standards Development Office Product Safety Technology Center National Institute of Technology and Evaluation

Phone number:+81-3-3481-6933
Fax number:+81-3-6686-9307
Address:2-49-10 Nishihara, Shibuya-ku, Tokyo 1510066, Japan MAP
Contact Form