Oscillibacter valericigenes

Sjm18-20T (= NBRC 101213T)
Oscillibacter valericigenes

Sjm18-20T (= NBRC 101213T)
Oscillibacter valericigenes Sjm18-20T (= NBRC 101213T) is a mesophilic, strictly anaerobic bacterium isolated from the alimentary canal of a Japanese corbicula clam (Corbicula japonica) in Shimane Prefecture. Based on 16S rRNA gene sequences, the strain was revealed belonging to the clostridial cluster IV, one of the 19 clusters of clostridial bacteria. Clostridial cluster IV is known to contain phenotypically heterogeneous bacteria. O. valericigenes was shown to be distant from any other species of clostridial cluster IV in 16S rRNA sequence analysis. Instead, it was most similar to the large cells mechanically enriched from sheep rumen contents and thought to represent "Oscillospira guilliermondii", which was originally reported in as early as 1913.
The genome sequence of strain Sjm18-20 revealed one circular chromosome (4,410,036 bp, 53.32 % G+C, 4,656 ORFs, 3 rRNA operons, 58 tRNA genes) and one circular plasmid (60,586 bp, 43.33% G+C, 67 ORFs). The genome sequence of the strain would provide clues about the lifecstyle and the isolation of related and uncultivated bacteria.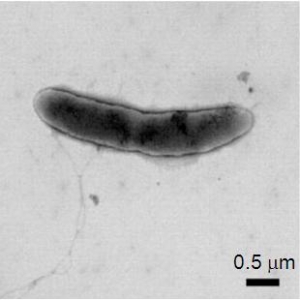 photo by Dr Iino (NBRC, NITE)
References:
[1] Complete genome sequence of

Oscillibacter valericigenes

Sjm18-20T (= NBRC 101213T)

Katano, Y., Fujinami, S., Kawakoshi, A., Nakazawa, H., Oji, S., Iino, T., Oguchi, A., Ankai, A., Fukui, S., Terui, Y., Kamata, S., Harada, T., Tanikawa, S., Suzuki, K. and Fujita, N.


Standards in Genomic Science

[2] Oscillibacter valericigenes gen. nov., sp. nov., a valerate-producing anaerobic bacterium isolated from the alimentary canal of a Japanese corbicula clam.

Iino T.,Mori K.,Tanaka K.,Suzuki K.,Harayama S.


Int. J. Syst. Evol. Microbiol

. 57 (2007) 1840-5 [PMID:17684268]
Oscillibacter valericigenes Sjm18-20 T (= NBRC 101213 T )

| | |
| --- | --- |
| Genomic size: | 4,470,622 bp |
| The number of ORFs: | 4,723 |
| GC content: | 53.19% |
| Genome Database: | DOGAN |
| NBRC No. : | 101213 |
NBRC is distributing copies of the microbial genomic DNA clones constructed during the course of each of the genomic DNA sequencing project.
Contact us
Industrial Innovation Division, Biological Resource Center, National Institute of Technology and Evaluation


Address:2-49-10 Nishihara, Shibuya-ku, Tokyo, 151-0066 JAPAN MAP
Contact Form