Information on PRTR,SDS
About PRTR, SDS
The objective of the Act on Confirmation, etc. of Release Amounts of Specific Chemical Substances in the Environment and Promotion of Improvements to the Management Thereof was enacted in 1999 in order to promote voluntary management of chemical substances handled by business operators and prevent environmental pollution. The Act is enforced with the PRTR system and SDS system as its pillars.
The PRTR system obligates business operators to estimate and report the amounts of chemical substances released into the environment or transferred to outside facilities. The SDS system obligates business operators intending to transfer or supply chemical substances to other parties to provide information on the properties and how to handle them.NITE performs a series of operations from compiling the released or transferred amount of chemical substances to preparation for publishing data in the PRTR system. Also, NITE offers technical support for the PRTR system and SDS system to business operators, and operates the on-line notification system.
NITE provides public with PRTR information.
PRTR map: Concentrations of chemical substances subject to PRTR are showed on a map by colors.
Report comparing by year: The transition of PRTR data can be viewed by years.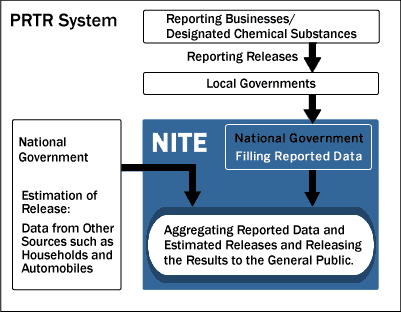 Contact us
Chemical Management Center, National Institute of Technology and Evaluation

Phone number:+81-3-3481-1977
Fax number:+81-3-3481-2900
Address:2-49-10 Nishihara, Shibuya-ku, Tokyo 1510066, Japan MAP
Contact Form