Analysis of PRTR data
Annual PRTR Data
The each annual report shows PRTR data by substances and industries, estimation of amount non-subject to notification and mobile source.
Breakdown of FY2015 PRTR Data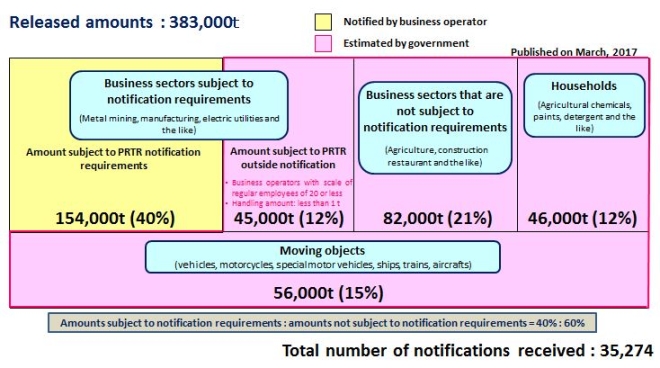 Comparison Previous Year
The comparison reports show the trend of the reported data by substances and industries.
PRTR map
The PRTR map is composed of the released amount map and the concentration map. The released amount map displays the released amount on municipality basis. The concentration map is based on the reported data of environmental release and the estimated release amount which were not reported under the PRTR system, the concentrations in the atmosphere were estimated by an atmosphere model (AIST-ADMER). This model takes weather data and physical properties into account. The results are shown on a 5km×5km or 1km×1km grid map.
Operation screen(Japanese and English)
Contact us
National Institute of Technology and Evaluation