International Patent Organism Depositary, NITE (IPOD, NITE)
The role of International Patent Organism Depositary (IPOD), National Institute of Technology and Evaluation (NITE) is to accept, preserve, and furnish patent microorganisms as an 'international depositary authority' as stipulated by the Budapest Treaty and as a depositary organization of Japan designated by Japan Patent Office.
Depositary to IPOD
If you would like to deposit of microorganisms to IPOD, Please contact us by e-mail.
e-mail: ipod@nite.go.jp
Furnishing Procedure for Patent Microorganisms
A flow chart
We will furnish the requesting party with the deposited microorganisms according to rule 11 of the Budapest Treaty. A request for distribution will be accepted as shown in the following flow chart.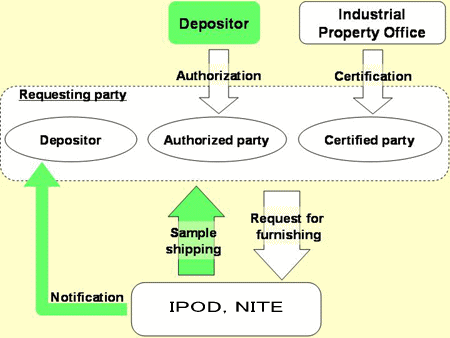 Please note that the requesting third party should obtain authorization of the depositor or certification of the Industrial Property Office before requesting the particular microorganism. We will then notify the depositor that his/her deposited microorganism(s) will be sent to the third party.
Request forms
We accept requests for distribution only in the following forms. Please choose one that fits you best and submit it with your signature.
Charges for depositary and Related
Charges for depositary and Related
Category
Price (yen)
(a) Storage (for 30 years) *1
original deposit
175,000
new deposit
33,000
(b) Issuance of attestation under Rule 8.2
3,000
(c) Issuing of a viability statement
(i) if the viability test is to be carried out *1
29,000
(ii) based on the last viability test
3,000
(d) Furnishing of a sample *1*2
41,000
(e) Issuing of communication under Rule 7.6
3,000
*1 Japanese consumption tax will be charged for (a), (c) (i) and (d).
*2 To ship abroad, handling and delivery cost will be charged separately.
Methods of Payment
You can make a payment by bank transfer or by charging to your credit card (Visa or MasterCard will be accepted).
Contact us
International Patent Organism Depositary (IPOD), Biological Resource Center, National Institute of Technology and Evaluation

Phone number:+81-438-20-5910
Fax number:+81-438-20-5911
Address:#120, 2-5-8 Kazusakamatari, Kisarazu-shi, Chiba 292-0818, Japan MAP
Contact Form