Accident Information Special News No.6
February 3, 1997
A hair drier of Matsubara Co., Ltd. (imported article) has a possibility of causing smoking and ignition due to the loose connection of the switch so that the Ministry of International Trade and Industry released (February 3, 1997) the outlines of the accident so as to widely inform the consumer and accelerate the practical effect of the recall.
If you have the following product, immediately stop using it, make contact with the store where you purchased it or the following importer, and replace it for an improved type.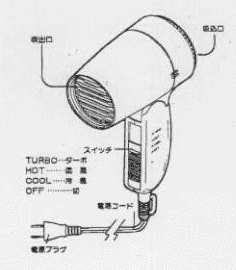 Product

| | |
| --- | --- |
| Name of article | Hair drier |
| Model | MHD-1100 |
| Produced in | China |
| Manufacturer | Wongsheng Wanye Youxian Gongsi |
| Importer | Matsubara Co., Ltd. |
| Period of sales | From August 1994 to April 1995 |
| Number of sales | 82,000 |
| Number of Accident | 1 |
| Contact number of importer | 0729-39-6663 |
1. Occurrence Situation of Accident
A user used a hair drier which has been used for 7 months, for about 5 minutes, turned off the body switch without pulled out the power plug from an outlet, and put it on a netted basket in a wagon. 30 minutes later, smelling something burnt, the user looked at the hair drier to find it thermally deformed and so pulled out the power plug.
(Information provider: Consumer Life Scientific Center of Kyoto Prefecture)
2. Origin of Accident
The result of a test for this accident performed by the National Institute of Technology and Evaluation showed that an air blowing fan circuit is stopped due to the loose connection with the power switch (slide type) turned on and the user thought that the switch was turned off and left it as it was, however, only a heater side circuit was energized to cause thermal deformation. In this product, both of an excessive temperature rise prevention device and a temperature fuse were installed near the hot air blowout port so that, when the blowout port of the hair drier was placed with the bottom up and if the heater only was energized and heated, the temperature fuse was not welded and it may cause smoking or ignition.
3. Measures
From the viewpoint of prevention of the accident recurrence, the design of the circuit was changed so as to prevent the heater side circuit from being energized, even if the air blow fan is stopped.
4. Recall Situation of Appropriate Product
From May 1996, the importer spontaneously notified to the respective retail stores and shops to recall the products or replace them for the improved articles, and when there is a complaint from the purchaser, the company replaces it for the improved one. Thus, 64,860 products were already recalled, but it is thought that approximately 82,000 products are still floating around in the market at present.
Contact us
Risk Analysis and Public Relations Division Product Safety Technology Center National Institute of Technology and Evaluation

Phone number:+81-6-6612-2066
Fax number:+81-6-6612-1617
Address:1-22-16, Nankokita, Suminoe-ku, Osaka-shi, Osaka 559-0034 Japan MAP