NITE Alert_71
August 30, 2006
METI issues emergency order to Paloma Industries Ltd.
In recognition of defects with 7 models of instant gas water heaters manufactured by Paloma Industries Ltd., the Ministry of Economy, Trade and Industry (METI) has issued an emergency order based on Article $82 of the Consumer Products Safety Law on August 28, 2006, to inspect and recall the relevant products, alert consumers, and report to METI on the progress of inspection and recall activities.
Alert: If you own any of the products subject to this emergency order, and they have not been inspected by Paloma Industries, you are urged to contact Paloma Industries immediately.
1. Reasons for the emergency order being issued
With these 7 models, the control box installed as a safety device broke down relatively shortly after purchasing due to a solder fracture, and gas ignition consequently failed. The design easily allows alterations to bypass the control box, which is also the safety mechanism, to ignite the gas. However, such an alteration will allow gas combustion to continue even if the power supply to the exhaust fan is interrupted. The result is imperfect combustion and the threat of carbon monoxide poisoning.
The products subject to the order are confirmed to be defective for the following reasons; (1) the safety devices, which are critical to safe operation of gas appliances, can easily breakdown, while the unit can be easily altered to bypass the safety device to allow ignition; (2) with the exception of one case, no alterations were found in any of the products of 11 other manufacturers who also produce forced exhaust type gas water heaters.
Although aware of the risk of alteration, Paloma neglected to provide appropriate information to prevent accidents, and failed to instruct and alert consumers to the risk.
The installation of more than 200 altered heater units are confirmed throughout country. These are believed to pose an imminent serious hazard to consumer's lives and health.
For these reasons, METI has issued an emergency order to Paloma Industries Ltd., based on Article 則82 of the Consumer Products Safety Law.
1. Product detail
Product name:
Hot-water heater for Indoor installation
Models:
PH-81F, PH-82F,PH-101F, PH-102F,
PH-131F,PH-132F, PH-161F
Manufactured by:
Paloma Industries Ltd.
Distributed by:
Paloma Co.,Ltd.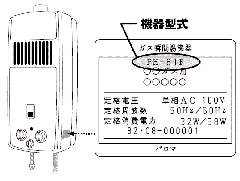 Fore more information;
National Institute of Technology and Evaluation (NITE)
Product Safety Technology Center, Product Safety Investigation Division
Contact us
Risk Analysis and Public Relations Division Product Safety Technology Center National Institute of Technology and Evaluation

Phone number:+81-6-6612-2066
Fax number:+81-6-6612-1617
Address:1-22-16, Nankokita, Suminoe-ku, Osaka-shi, Osaka 559-0034 Japan MAP