NITE Alert_78
January 18, 2007
Safety alert on Electric heaters (Halogen heaters) imported and distributed by Daio International Japan
In response to a series of recent accidents involving electric halogen heaters, such as burst glass tubes burning a tatami mat or a burn injury to the consumer from a glass fragment, the Ministry of Economy, Trade and Industry (METI) and the National Institute of Technology and Evaluation (NITE) investigated the importer/distributor of the product, Daio International Japan Co., Ltd. As a result of the investigation, the company could not be found in its registered address and its telephone line was disconnected. In response, on January 18, 2007, METI and the Okinawa Administration Office of the Cabinet Office alerted consumers to stop using the product as it may pose similar hazards.
NITE also provides information on this matter to prevent further incident.
Consumers should immediately stop using the product as its broken glass tube may pose fire or burn hazards.
1. Product details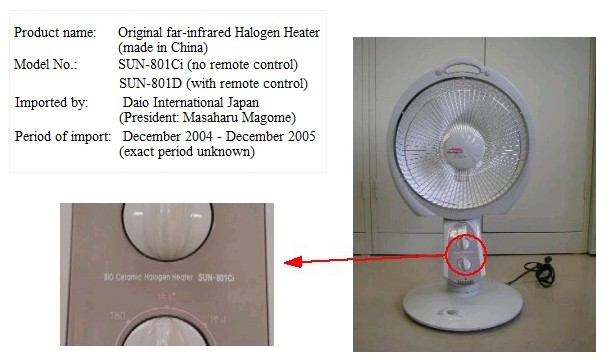 2. Accident details
Case 1:

On November 7, 2006, in Hiroshima, the heater lamp burst and burnt the floor the moment a consumer plugged the halogen heater into the mains.

Case 2:

On December 28, 2006, in Okinawa, a glass tube suddenly burst after using the halogen heater for about 5 minutes in the living room. The scattered pieces pierced the consumer's clothes and burn injuries on the arm. The floor, cushions and clothes were also scorched.

Case 3:

On December 31, 2006, in Okinawa, a heater lamp burst into pieces after 1 hour use in oscillating mode, and burnt a tatami mat.

Case 4:

On January 11, 2007, in Okinawa, a heater lamp stopped lighting up after emitting sparks.

Case 5:

On January 13, 2007, in Okinawa, a heater lamp stopped lighting up after emitting sparks.
The company previously recalled another model (far-infrared halogen heater model: BRE-800H) on November 5, 2003 for a power-off switch failure.
Fore more information;
National Institute of Technology and Evaluation (NITE)
Product Safety Technology Center, Product Safety Investigation Division
Contact us
Risk Analysis and Public Relations Division Product Safety Technology Center National Institute of Technology and Evaluation

Phone number:+81-6-6612-2066
Fax number:+81-6-6612-1617
Address:1-22-16, Nankokita, Suminoe-ku, Osaka-shi, Osaka 559-0034 Japan MAP